THE BEST OF TAIWANESE PRODUCTS & SERVICES AT 2017 EXPO IN MALAYSIA
19/11/17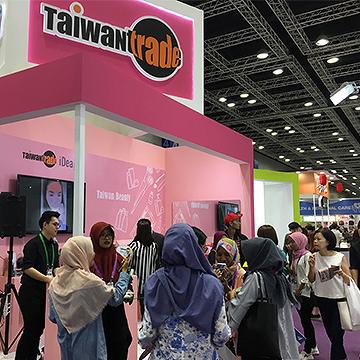 Kuala Lumpur, 6 Nov 2017 – For years, Taiwan has been referred to as an emerging market. Today, it is one of Asia's market leaders in technology and production, among other things. This can be verified from the runway success of the recently held Taiwan Expo 2017 events held earlier in Jakarta, the Philippines and Vietnam. In November, Malaysia will host the last leg of the Asean tour and organisers are confident that it will receive the desired response.
The "Taiwan Expo 2017 in Malaysia," with more than 5,000 Taiwanese products on the B2B platform, will be held from 9-11 November at the Kuala Lumpur Convention Centre here. The theme for the event is "BEST for MY Life!" By sharing the best solutions, services, and techniques from Taiwan through this expo. Taiwan and Malaysia can work together to create the best quality of life aesthetics, the most prosperous metropolis, and the most Muslim-friendly environment.
Aimed at establishing a solid bilateral relationship between the two countries through deepening collaborations and diversifying the areas of cooperation, the Expo will to help promote cooperation with Malaysian counterparts and increase Taiwan's visibility in the region.
As Taiwan is Malaysia's eighth largest trading partner, as well as its ninth largest export market, it is imperative that Taiwan be projected as a leader in quality consumer products with the view to further develop consumer preferences for Taiwanese products. These will be made visible through 11 Themed Pavilions and Eight Major Industries featuring 180 exhibitors, with a series of concurrent activities such as trade and business matching, industry forum, cultural performances and other exciting activities.

This is our presentation session in KL, Malaysia:
https://www.facebook.com/Taiwantrade.ILoveMIT/videos/1432015390249857/




(Date source:https://mys.taiwanexpoasean.com/en_US/news/info.html?id=9A4F6A4EED6DF503)