Vivacé x Sample store "Get FREE Vivacé Lite Mask (5pcs worth $30)."
05/10/17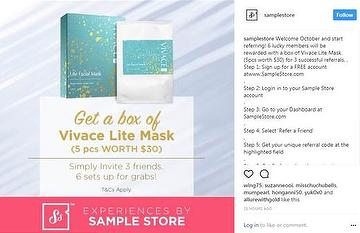 https://m.facebook.com/story.php?story_fbid=1915424195134490&id=146044558739138

Step 1: Sign up for a FREE account atwww.SampleStore.com
Step 2: Login in to your Sample Store account
Step 3: Go to your Dashboard: http://bit.ly/2seQL5n

Step 4: Select 'Refer a Friend'




Step 5: Get your unique referral code at the highlighted field




Step 6: Get 3 of your loved ones to sign up as a Sample Store member using your unique referral link. Alternatively you can send email invitations on the same page.



*Prizes will be sent out on 3rd November. Referral will only be considered valid for accounts that are verified.